Nine Years of Unity
By David Neidig
The inspiration for the Band's name comes from this Bahá'í quote:
"So Powerful is Unity's Light That It Can Illumine the Whole Earth"
-- Bahá'u'lláh  
In November, 1973, some Bahá'í musicians were asked to play at Northwestern University at a benefit for the Biafran's.  Haydn Mohr, Dave Bragman, John Woodall, Steve Rich, and Janie Frye combined their talents to perform the benefit and formed the very first Unity Band.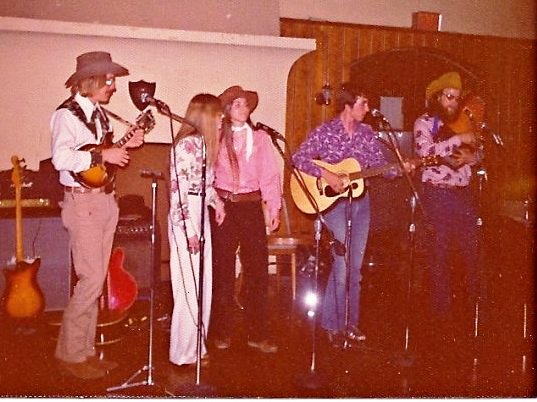 The group provided great entertainment for the audiences and it was fun for the musicians as well, so the Unity Band began to perform at Bahá'í Firesides (small informal gatherings where people share the teaching of the Bahá'í Faith) and public proclamations for the Bahá'í Faith.  Haydn sang most of the leads and also played autoharp, harmonica, spoons and anything else he could get his hands on. John, Steve, and Dave all played guitar (they each had one) and Janie sang harmony and some lead. Ron Johnson joined the band playing washboard and soon after Steve Rich left the group.  That was the first of a long line of personnel changes to come.  Dick Staller joined as guitar player.  Janie Chly and Barb Lee joined for brief careers with Unity.  They left, Dick left, and in succession Unity added Cindy Crampton, Mark Harries, Donna Kime and David Neidig.  Mark played guitar and some dobro and Neidig played lead guitar.  During this period Janie Frye became Janie Harries.  It was also during this time that Dave Bragman expanded his frailing abilities on the banjo and began developing the Scruggs and melodic styles.  This lent more of a bluegrass sound to the group.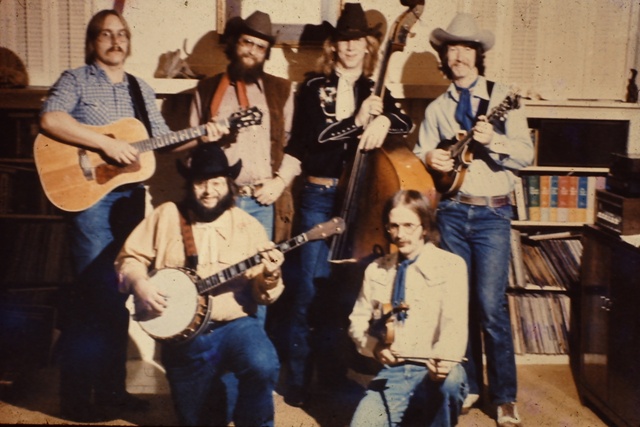 Some of the group's first bluegrass tunes were Lonesome Fiddle Blues, Cripple Creek, and Foggy Mountain Breakdown.  Some other favorites of the era were Joy, Joy, Joy; Wabash Cannonball; and of course Will the Circle Be Unbroken.  Some highlights of these early years included a trip to Michigan, another to Minnesota and a great weekend in Pontiac, Clinton and Paxton, Illinois.  When John Woodall left the group Haydn suggested that Dave Neidig learn to play the mandolin.  Soon after Donna and Cindy left the group and Steve Neidig joined as the stand-up bass player.  Most of the members at this time worked at the Bahá'í National Center.  Haydn met Doug Minard, who worked there also, and discovered that he had a fiddle in his closet.  Doug first played with the band at a proclamation in Carol County, Illinois.  His debut professionally was at Oakton Community College where Unity was the opening act to the New Grass Revival.  The band played it first professional gig the weekend of October 29 – 30, 1976 at the Spot (in Evanston, Illinois) for $50 a night!
During this time Janie dropped out to pursue a career in college and ultimately motherhood; Steve left the band and Adrian McKee joined as the new stand-up bass player; met Bill Wells & friends; played numerous proclamations throughout Illinois and traveled as far as Oneida, Wisconsin, Knoxville, Tennessee and Renner, South Dakota. They met Jasmine in Cahokia, Missouri and David and Burma announced their engagement at a square dance in Morton Grove, Illinois.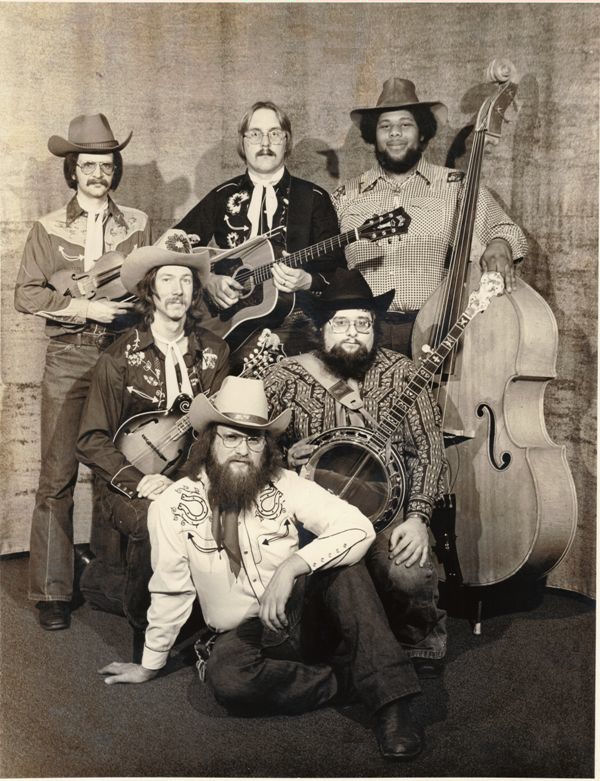 A highlight of this period was undoubtedly the Bahá'í Youth Conference in Champaign, Illinois where 2,000 screaming youth fled their seats to dance to Bile 'Dem Cabbage Down.  At this conference, the band jammed with Charles Nolley and Dave Rohling, both of whom were to later become members of the Unity Bluegrass Band.
The 30th of July the group went into the Studio in Lake Geneva, Wisconsin to record its first (and last) album titled "Getting Around Tuit".  Andy Waterman engineered it at Castle Studios.  Jack Bowers, editor of the American Bahá'í contributed to the liner notes and Steve Jackson of the United States Bahá'í National Center's Treasurers Office did the photography.
No one who saw the band at the Old Firestation #2 (in Evanston, Illinois) will ever forget the classic entrances down the fire pole, or the marriage manual written for Judy! Nor will anyone that was present ever forget the "Poopy Diaper Breakdown" on the way to Louis Gregory Bahá'í Center (outside of Hemmingway, South Carolina)!
The $$$money$$$ started getting better, often netting the band over $100 a night.  Occasionally, it was even in $200-300!  Things looked so great that the band decided to "go professional". The deadline was set at June 1, 1978.
During this time Jackson Blanchard was hired as manager, and then, when Haydn left the group in May… she became the lead singer.  It was also during this time that Burma was hired as sound technician for the band.  During this period, Unity acquired a green monstrosity named "Abbey".  Abbey was also dubbed with a few other nicknames before she was permanently retired but space nor prudence warrant further mention here!  (for those who still don't know who Abbey was, she was a 1962 Ford school bus that we lived in when on the road).
This era included a trip to Yellowstone National Park, Wyoming; a trip to the Black Hills, South Dakota; and even a gig with Tammy Wynette at the Abby in Lake Geneva, Wisconsin.
November 4, 1978, at the Spot, Mark Harries played his last gig as a full-time member of the band.  Unity added Dave Rohling on guitar and practiced with him once at Doug's parent's home in Lincoln, Nebraska before opening for 2 weeks at the Char bar in North Platt, Nebraska.  This trip also included a sight-seeing tour of Sapp Brothers.  The ticket for that little side trip was at least $1500 (Abbey had expensive tastes).
The end of that year saw the beginning of the 'blizzard of '79'.  It also saw Adrian leave the group and Steve Neidig re-join as bass player.  January of that year saw several jobs canceled due to blizzard conditions and February saw the debut of Unity at Charlotte's Web in Rockford, Illinois.  Steve played his last gig with the band at the Walnut Valley Festival in Winfield, Kansas, June, 1979.  Bill Taylor and Roger Bellows each helped out as stand-ins on bass.  Jackson took over on bass in Cody, Wyoming that same month.  Unity met Doris at the J Bar T in Great Falls, Montana where, due to a slight misunderstanding, the band made $1200 in one night, a record yet to be broken!  And in Cutbank, Montana, the group met Bonnie at the <cut> and hasn't been paid for that gig yet!  Doug won 2nd place and $175 at the Western Colorado Fiddle Championship near Grand Junction and the group won 1stplace and $500 in the bluegrass band contest.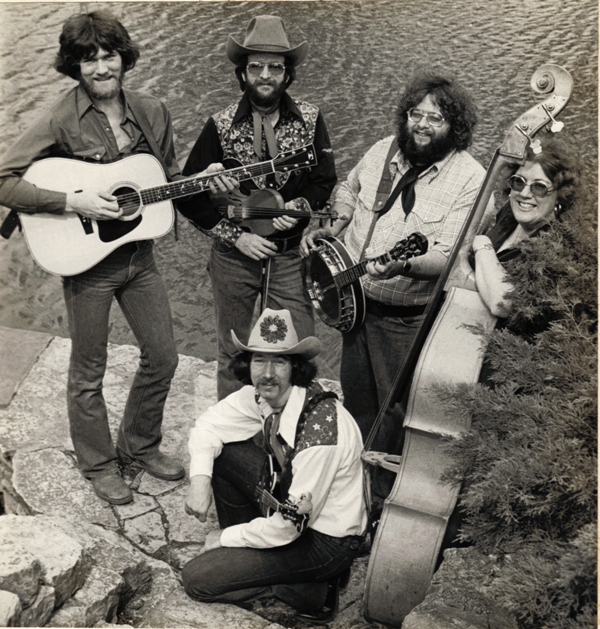 The whole western tour that summer '79 was a dream come true in many ways but it was hard on families. Doug gave notice and in November of that year he and Rohling left.  Uncertain of the Band's future, yet wanting to document an exciting era of Unity, plans were made and at QR Studios in Evanston, Illinois, with Joe Brown engineering, "On Our Way" was recorded.  Tommy Anderson came from Maryland to replace Rohling on guitar.  He lasted a month and a half to be replaced by Glenn Terrace.  Jerry Fields sat in on fiddle a few times.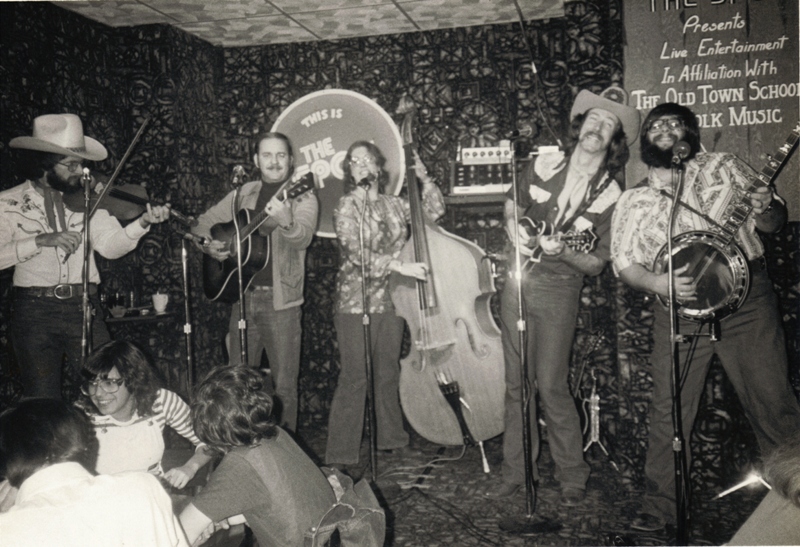 In February Burma left the band to become a mommy and in March Doug Adair joined as lead singer and 2nd guitarist.  In April Bragman left, relinquishing his position to Ken Jensen.  For most of winter of '80, Unity has lapsed into becoming a part-time band.  May '80 saw the birth of Unity Bluegrass Etc. and the group's return to full-time status.  Highlights of this era include the Red Oakley Tour; the Cabin; and the Bluewater Bluegrass Festival at Northwestern University.  Fat Rats should not be forgotten and Governors Lounge can't be!  This group also won 1st place and $500 in the band contest, this time in Merrillville, Indiana.
In November, 1980 Adair, Terrance, and Jensen left Unity and soon after formed Out of the Blue.  Unity became part-time again.  The group began rehearsing with Dave Neidig, Doug Minard, Adrian McKee, and Haydn Mohr.  Charles Nolley played banjo and Lisa Emmel, guitar.  The group seemed to have come full circle.  In January, 1981 Rohling returned and before the group's 1st gig (at McGiddies) Haydn and Lisa quit.  Jackson rejoined on bass and Adrian went to guitar.  The group consisting of Jackson, Doug, Rohling, Neidig, Adrian and Charles played McGiddies.  Some highlights of this era were the Playboy mansion in Chicago; and the Bahá'í Youth Conference in Kansas City, Missouri.  It was also during this era that Jackson, Doug, Neidig and Rohling did some dawg-type gigs as the Unity Quartet.  At one of these gigs, Sha Na Na (Bowser and Lennie) made a surprise appearance and did a couple of numbers with the band playing back-up.
 
In the fall of '81, Jensen & Terrace rejoined the group on a part-time non-committal basis with Doug, Neidig and Jackson.  Charles was home with a brand new baby and Rohling went back to South Carolina, or New Orleans, or Missouri, or somewhere!  The group began only accepting jobs that they really wanted to play or that played lots of $$$!
Once again, the future of Unity is uncertain, but oh, the memories…
1982
*** For those of you who are interested, here is a picture from Unity Bluegrass Band's Reunion Gig at the 50th Anniversary of the Green Lake Bahá'í Conference. ***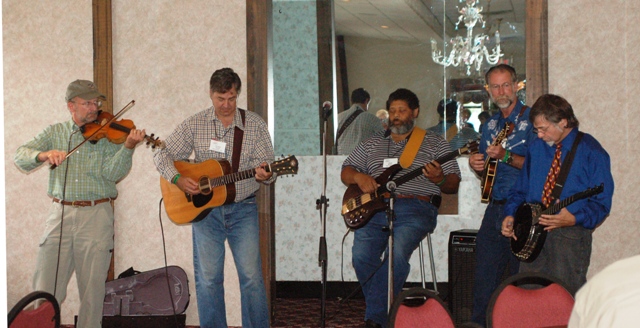 Might there be another reunion in works???